PorcFest XV is right around the corner, y'all!

This June 19-24, we'll be back at Rogers Campground in the beautiful White Mountains of New Hampshire – such a perfect setting for our annual freedom festival.
Each year, visitors from all over the world come to PorcFest. Read on to see why!
Speakers and Performers
Your PorcFest Production Team has been working hard to plan an amazing event, and we think that you are going to LOVE what we have in store.
This year you'll be treated to a concert by 
BackWordz
 and hear from 
Ben Swann
, Eric July, David Friedman, Jeffrey Tucker, Lyn Ulbricht, Carey Wedler, and many more!
Are you a fan of Penn & Teller? Then you'll probably be excited to see Matt Donnelly on the schedule! Penn's good friend, co-host of Penn's Sunday School Podcast, and writer on Penn & Teller: Fool Us! will join us to perform a magic comedy act and will also host a Q&A about his life as a sidekick to larger-than-life libertarian Penn Jillette. You won't want to miss that!
Fun and Games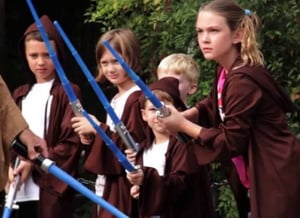 If speakers aren't your thing, there will be play for all ages. Have a blast with dodgeball, ultimate frisbee, relay games, Jedi trainingand more. And the family will love our amazing kids' program, with activities held throughout the day in our kid-centered PorcuPints venue.
Plus - kids' tickets are free (but donate a little because the kids' activities ROCK)!
Not feeling playful? That's cool. We also have raves, ballroom dancing, and nightly bonfires. PorcFest really does have a little of everything!
New Add-On Workshops & Tees
Check this out: This year we're trying something new - workshops! You're going to LOVE these new add-on classes that give you the chance to take a deeper-dive into subjects that don't fit into our 45-minute sessions. You can sign up to:
become certified in CPR
learn about MeshNets and leave with your own goTenna
set up your brand new android tablet so it's super secure
learn more about the AR-15
attend a shooting event
have the kids build a wooden Micro-Uzi, or
make your own balms and salves.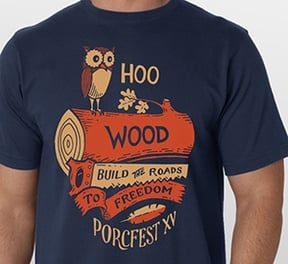 And while you're cruising the offerings, don't forget to check out our exclusive pre-order only festival tee, on sale through 5/20, so hurry! (It's so punny, right?!)
Agora Action
PorcFest has a "down town" area called Agora Valley where you can buy and sell various goods and services. From breakfast to t-shirts, crypto to massage, it's home to vendors and service providers who epitomize the voluntaryist spirit you'll find here in New Hampshire (and almost all of whom are crypto-friendly). Spend your afternoon strolling through, or come as a vendorand maybe leave PorcFest with a few more bucks (or Dash!) than you came with.
What's the Best Part?
Check out the ever-growing schedule (the full schedule will be out soon, so keep checking back!) and featured speakers page for more details about the event that brings hundreds of libertarians to PorcFest year after year.
We're going to let you in on a secret, though. While our schedule is jam-packed with the best speakers, entertainment, and activities, and while that might be the reason you decide to purchase a ticket...once you arrive, you'll find that having the opportunity to immerse yourself in our community of voluntaryists is worth the price of admission. And don't be surprised when you find, at the end of the week, that you never want to leave New Hampshire.
Join the VIPs
Did you check out the perks that come with VIP? It's SO worth it! VIPs get:
exclusive access to our VIP tent with hot and cold drinks all day
meet-and-greets with speakers and live musical performances
reserved front-row seating in the Dash Pavilion
a deluxe swag bag with a special gift
complimentary pastries and coffee each morning, happy hour appetizers each evening, bar snacks, and more!
Make It Happen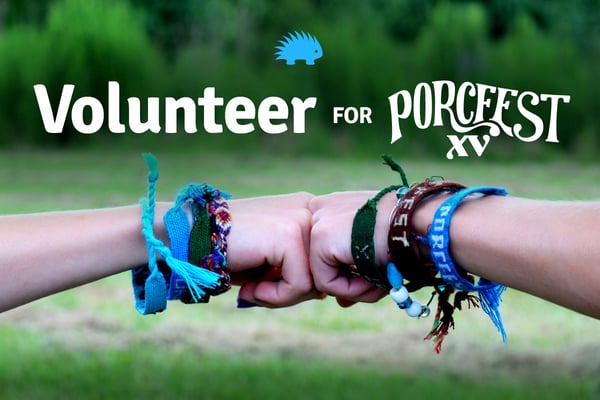 Already bought your ticket? Well, thank you! Please consider joining our 
volunteer team
 to meet some of the most awesome folks on the planet while helping make PorcFest happen. We hear the volunteer shirts are particularly awesome this year!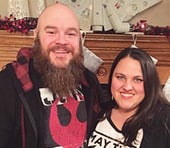 We look forward to seeing you at 
PorcFest XV
 June 19-24 at Rogers Campground in Lancaster, New Hampshire.
In liberty,
Jessica Paxton and Rodger Paxton
PorcFest XV Event Producers
Jessica and her husband Rodger are pleased to be your 2018 PorcFest Producers, after having successfully coordinating PorcFest's Main Pavilion in 2017.  They made the move to New Hampshire's Freecoast in the fall of 2015. Before making the move, Jessica served in various roles within the Libertarian Party of Arkansas, including Chairman, Media Director, and head of candidate recruitment and support. These days, Jessica is an unschooling mom of two boys who keep her busy exploring all that New Hampshire has to offer. While incredibly thankful for amazing porcs who welcomed her family with open arms, her only regret is not making the move years ago.